Con T-shirt
Satellite 3 T-shirts now available.
We are organising another run of Ts featuring our terrific new logo. The price is £16 each, plus £4 if you want it posted to anywhere in the UK. To get your T-shirt from this print run we will need an order by 31st August. You can pay by cash directly to us at Trout, cheque to the convention address, or through Paypal using the form below (an administration fee will apply for Paypal payments). Please note we can only fulfil orders that are paid in advance.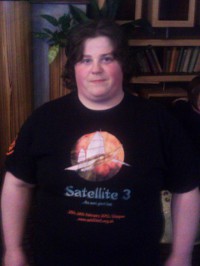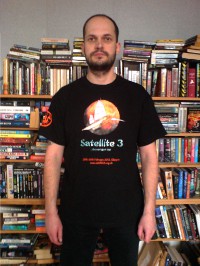 T-shirts are single-sided print on black, with a sleeve patch featuring our Vermillion Bird, the Chinese astrological symbol for Mars. As you can see, they are both stylish and functional for all body types and genders, and in a wide range of lighting conditions.
Postage will apply to each T-shirt even for multiple orders to the same address.
Online T-Shirt Form