Guest of Honour - Charles Stross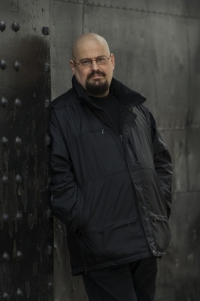 Charlie always wanted to be a science fiction writer and his first published short story was "The Boys" in Interzone in 1987. But as he had to earn some sort of living he worked as a pharmacist before doing a conversion course to computer science. Whilst following his career in computers he also spent time writing articles for Computer Shopper which paid actual money and his fiction appeared only on his website. However writing at this time still did not pay the bills and Charlie worked as a web programmer and IT consultant specialising in Linux and other open source software.
He re-launched his fiction career in 2000 and since then his writing career has been a meteoric over-night success. Accelerando won the Locus Award for best novel in 2006. Accelerando was also released under the creative commons license. Releasing the book for free didn't affect its sales much to his publishers great surprise. His novella "The Concrete Jungle" won the Hugo for Best Novel in 2005, and "Palimpsest" earned the same distinction in 2010. Six of his novels have been nominated for the Hugo Best Novel award, but he has yet to win. Although by the time Michael interviews him at Satellite 3 in 2012 he probably will have won it.
He has two books due to be published in 2010, "Rule 34" and "The Trade of Queens".
Sites about Charlie
Bibliography
(from Wikipedia)
Stand alone works
Scratch Monkey (unpublished, 1993)
"A Colder War" (2000, novellette)
Toast: And Other Rusted Futures (2002, ISBN 1-58715-413-7; short story collection)
Accelerando (2005, ISBN 0-441-01284-1)
Glasshouse (2006, ISBN 0-441-01403-8[2])
"Missile Gap" (2007, ISBN 1-59606-058-1; novella)
Saturn's Children (2008, ISBN 0-441-01594-8)
Wireless (2009, ISBN 0441017193; short story collection)
Halting State series
Halting State (2007, ISBN 978-0-441-01498-9)
Rule 34 (forthcoming 2010[3])
Eschaton series
Singularity Sky (2003, ISBN 0-441-01072-5)
Iron Sunrise (2004, ISBN 1-84149-335-X)
The "Bob Howard — Laundry" series
The Atrocity Archives (2004, ISBN 1-930846-25-8)
The Jennifer Morgue (2006, ISBN 1-930846-44-4; also contains the extra story "Pimpf")
"Down on the Farm" (2008)
"Overtime" (2009)
The Fuller Memorandum (forthcoming 2010, ISBN 1-84149-770-3)
Merchant Princes series
The Merchant Princes is a series in which some humans have an ability to travel between parallel Earths, which have differing levels of technology. This series is science fiction, even though it was originally marketed by the publisher as fantasy.
The first three books were collectively nominated for and won the Sidewise Award for Alternate History in 2007.
The Family Trade (2004, ISBN 0-7653-0929-7)
The Hidden Family (2005, ISBN 0-7653-1347-2)
The Clan Corporate (2006, ISBN 0-7653-0930-0)
The Merchants' War (2007, ISBN 0-7653-1671-4)
The Revolution Business (2009, ISBN 0-7653-1672-2)
The Trade of Queens (scheduled for March 2010, ISBN 0-7653-1673-0)
Also...
There is a list of short fiction here: ISFDB